NOTE: Meeting Registrations only work for paid accounts – it is not available for free accounts.
The option for registration is a check box when you create your meeting. After you save your meeting – you'll see the invite attendees area look a little bit different, but then you'll get a bunch more settings at the bottom of the page.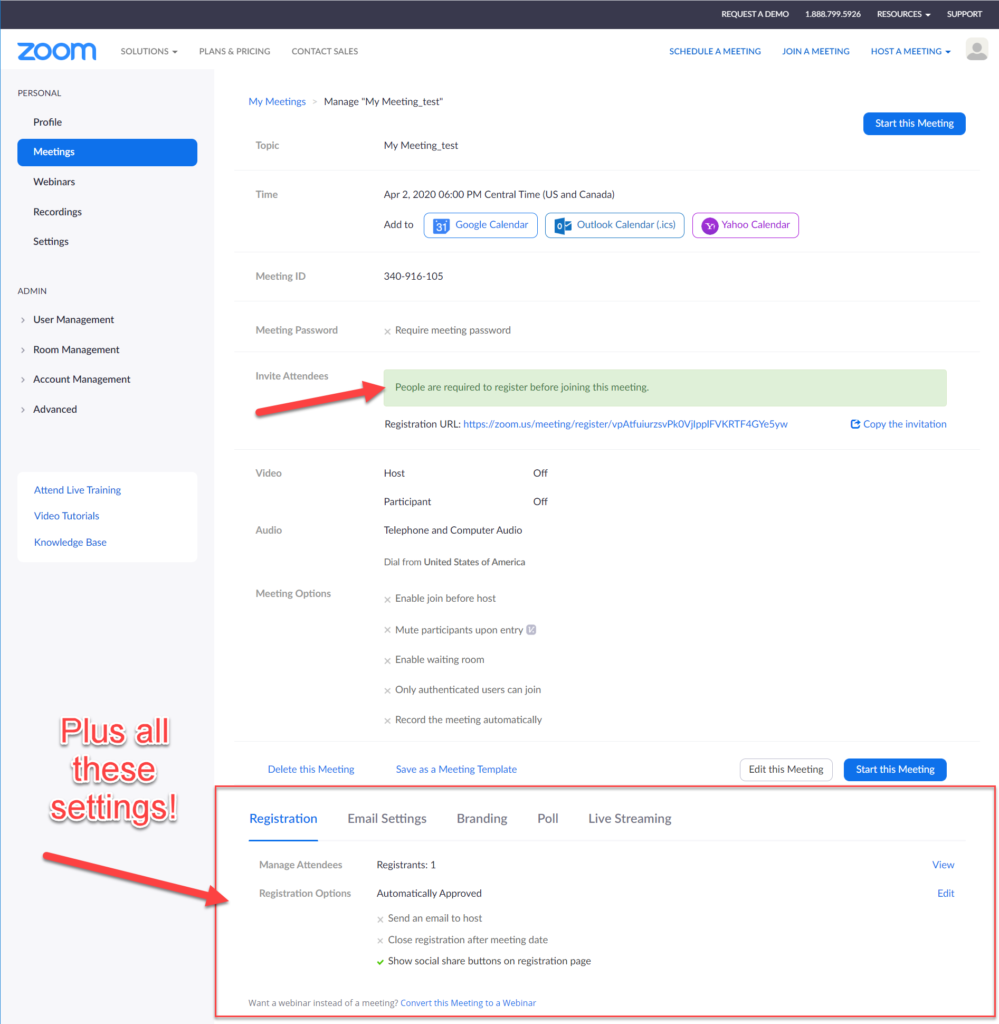 I already pre-tested the link, which is why there is already one registration for my meeting. All I had to do was enter my first and last name, my email address and verify I wasn't a robot. I received an email back with everything I needed to connect to the meeting. This is a much better way for meetings that you want to post on your website – PLUS you'll have the added benefit of knowing who is attending and how to follow up with them.
Let's look at how to set up your next meeting.
Registration tab
In the graphic above, you'll see the Registration tab. You can view who has already registered or you can use edit to change the settings.
When you click on view, you can resent the confirmation (for those people – you know who I mean); and you can cancel the registration for those people you don't want to attend (aka people you don't know – or maybe you do them.)
When you click Edit, you can change the registration options. You can change how the approval process works. When you use the registration option for a meeting, it is not a link to join the meeting — that is only sent after someone has successfully registered. How are they successfully registered – they can either be automatically approved (meaning, you'll let anyone join (unless you use the view option and cancel their registration) or you can manually approve them before they get the meeting link.
The Questions and Custom Question tabs allow you to change what the person has to enter during registration. At minimum, registration will capture the first name and email address; you can select different pieces of information like last name, city, company, etc. by using the check boxes on the Questions tab. Custom Questions allows you to build your own question.
Use the Save button to save your choices and you are back at the main meeting page shown above. There are a few other tabs in this section for Registration.
Email Settings – this one was important to me, because it's not really my Zoom account, it's my husband's! That's a good option for me to change before I send out my meeting invite.
Poll – If you'll want to ask people questions during your meeting and record their responses – use the poll. It is possible to add polls during the meeting, but the maximum is 25. A report of the poll results is available after the meeting has ended and will be tracked back to the person since we've turned on registration. Want more – check out this link.
Live Streaming – look for future posts on this, but this is where you can set it up which services you can stream to after you have started your meeting.
---
This is part of a series of articles that I wrote because of questions that I had or had to answer for others. Please be sure to check out the first one "Four Steps to Having your Own Zoom Meeting".