Step 1: Get your account
Buy a Pro account! You have a choice to pay by the month or annually. If you are only looking for an account for short time – you can use the monthly option. Make sure you read what you are buying on the right hand side! I had a friend who wasn't looking carefully and now has Zoom for a full year.
Step 2: Log in and setup your account
After you buy your account, you create a user name and password. Finish the basic setup information – it takes you through step-by-step.
Step 3: Create a Meeting
From your Profile page, click on Meetings, then look for the big blue button Schedule a New Meeting. Here's a sample screen with just the basics: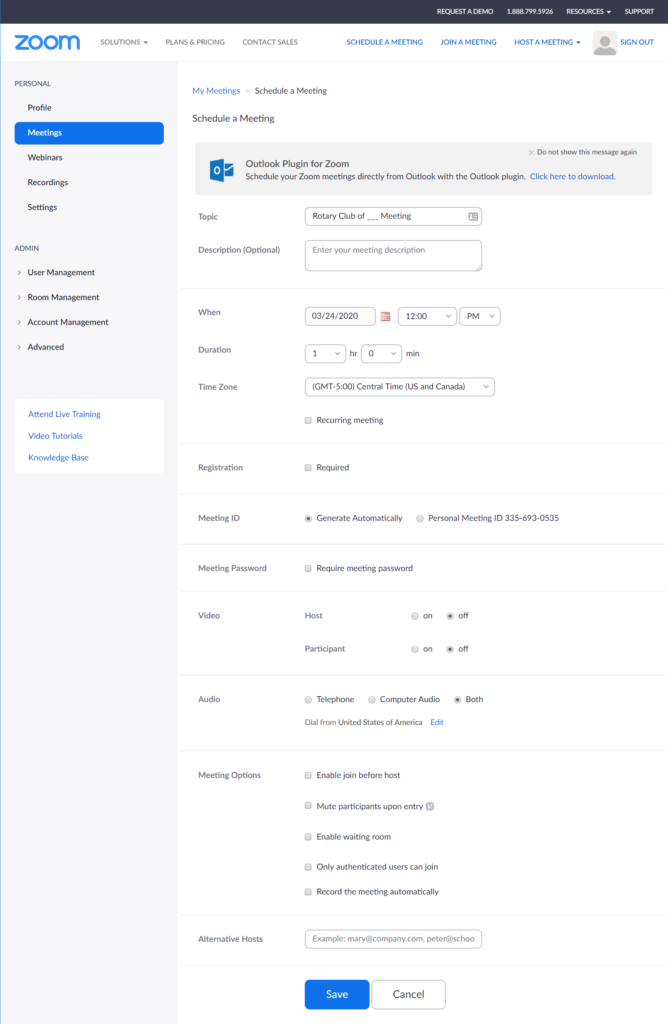 Keep your first meetings simple:
Do not require a meeting password
Don't require registration
Don't worry about any of the meeting options
When you're done, click the blue Save button at the bottom.
Next, you'll see a similar screen to what you just had, but you'll see a section "Invite Attendees" where you can copy the invitation. Click Copy the Invitation.
Step 4 – Invite people
Create an email to send to all the people you want to attend and past the meeting information in the body of the email. You might want to also include information on how to join a meeting, like this following clip.
Day Of
When you are ready for your meeting – log back into your account. On the left, click on Meetings. You'll see Upcoming Meetings and your meeting is there. Click Start! Do this at least 15 to 30 meetings before the official start of the meeting if you are using the Keep it Simple method.

Be sure to test your audio and video, and then click Join. And wait for people to join you!
Remember – only the Host can start the meeting!
Practice
Be sure you practice having a meeting, and that you can work the tool bar. When you start your meeting, you just see that white screen. You have to hover your mouse over the bottom of the window to see the control bar. If you don't like having to do that (which I don't), go back to your Zoom profile, click Settings and look for Always show Meeting Control toolbar.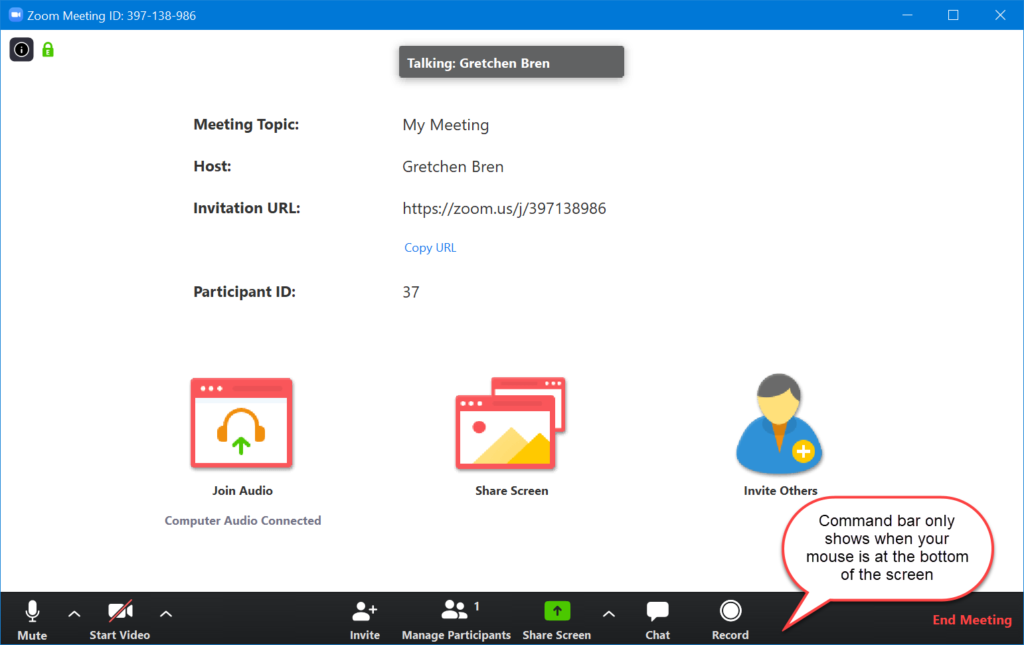 I've done a number of meetings where we have multiple presenters, so that's the other point of practice sessions: invite anyone else who will talking and try a dry run. Try our everyone's video and audio settings. If you are going to have a PowerPoint, make sure that everyone knows how to run it. Review the agenda and who is going to be in control. Set someone as a co-host to monitor questions and other technical issues that may come up. (That's going a bit further than the KISS method – but you'll get the hang of it soon.)
Tips for a great video conference
You want to look your best in front of the camera – dress appropriately and check your lighting. The best lighting is from a window shining directly on your face or from the side. If you have light from a window in the camera view you should cover it or move. It may be best to use a headset to minimize background noise. Consider your surroundings and eliminate any distractions.
Video conferencing Etiquette Resources
---
This is the first in a series of how to get started with Zoom meetings.